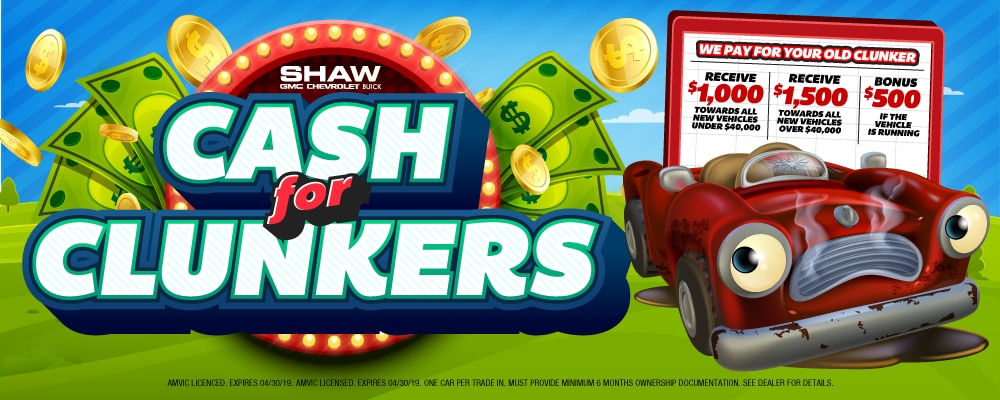 Do you have a CLUNKER sitting in your garage?

Shaw GMC Chevrolet Buick is giving you BIG CASH this month for your old clunker.
Are you thinking about upgrading that old ride you have been hanging on to? Why not scrap your old clunker for a new, fuel-efficient vehicle!
Here's how it works:
| Your Purchase | Cash* | Bonus Cash** |
| --- | --- | --- |
| Over $40,000 | $1,500 | $500 |
| Under $40,000 | $1,000 | $500 |
*
Shop Specials
Bring It In
Bring your clunker in to Shaw GMC Chevrolet Buick, the Shaw team will assess and value your clunker.
Go Green
You'll be doing your part for the environment by upgrading to a cleaner, more fuel efficient vehicle. Most clunkers will be donated to the Kidney Foundation of Canada.
Find Your Ride
Use your cash towards the purchase or financing of a brand new ride. Browse our inventory to find your dream ride.
What you need to know
We are not turning anyone away - bring it in any condition, whether you have to pull, drag, tow or drive that scrap of metal in to our dealership, we will give you up to $2,000 cash* towards the price of your new vehicle!
Cash for Clunkers is here for the month of April only at Shaw GMC Chevrolet Buick in Calgary!
Book your appointment TODAY to value your clunker.
*Cash amount to be determined at time of appraisal.
 ** If the vehicle you bring to Shaw GMC starts and runs on its own.