We provide brake service! A shuttle can take you to where you need to be while your vehicle is being serviced, or if you prefer to wait, a lounge waiting area is available as well as free refreshments and Wi-Fi access.
---
---
You may not think about them often, but brakes are a component of your vehicle that should always be working in top notch condition.
When do you know your brakes need replacing?
Look

Check for wear to your brake pads - you can check through the spaces between the wheel spokes
Reduced resposniveness of brakes
If your vehicle is pulling to one side when braking
Vibration or pulsating brake pedal

Listen

Screeching sound when braking - that's a small metal shim, called an indicator, which is giving you an audible warning that you need your brake pads replaced
Grinding or growling when braking - a loud metallic sound which means you have worn down the pads completely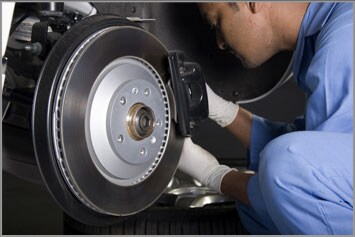 Before we begin work on your
Chevrolet, Buick, GMC, Isuzu brakes
, we will give you an estimate of cost and let you know what needs to be done. We will also let you know when you can expect your vehicle to be ready.
You don't have to purchase your vehicle from us in order to get service from our dealerships. If you need brake rotors, calipers, pads, fluid, or just a check-up, please call the Shaw GMC Chevrolet Buick Service Department to
set up an appointment
.
Schedule Service