The 2019 GMC Sierra sports the most innovative tailgate ever. The MultiPro tailgate is an industry first that minimizes effort and maximizes functionality with six tailgate positions that add to your everyday experience.
Made from aluminum, the MiltiPro tailgate is proven strong and durable with GM's most rigorous tailgate testing yet. It is available on all Sierra models, although a traditional tailgate is still an option.
Primary Gate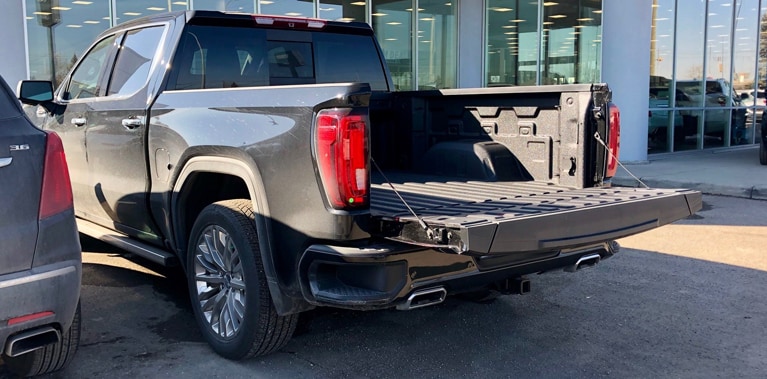 The first and most familiar tailgate position available is the Primary Gate, which allows the gate to lower like any normal pickup. The gate can be lowered using the vehicle's key fob from inside the truck, or with a button on the tailgate.
Primary Gate Load Stop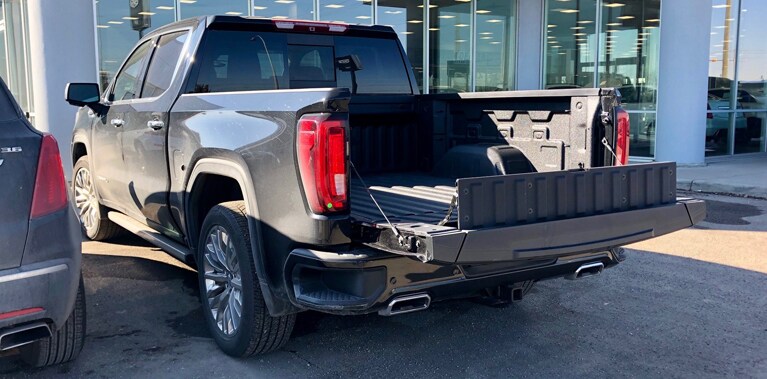 With the tailgate lowered, the load-stop can be raised from the tailgate to stop items from sliding out of the box. This is especially useful when traversing rough terrain, or if you need to complete an emergency maneuver to avoid an accident.
Foldable Inner Gate for Easy Access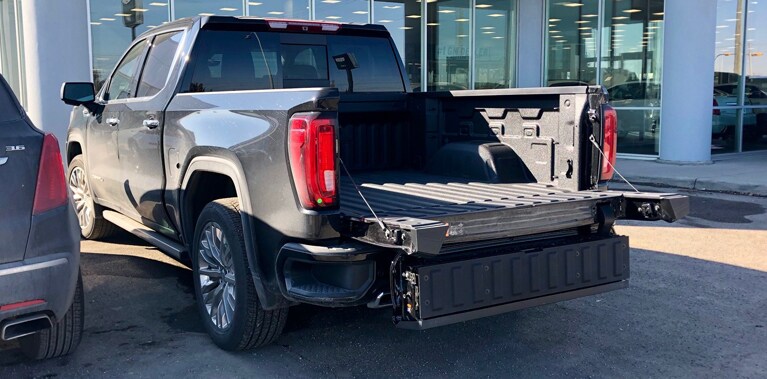 The inner gate may fold downward to create an opening in the tailgate. This allows easy access to your cargo, letting you get closer to the load so you can lift things more ergonomically.
Full-width step

With the tailgate down, the inner gate folds into a large step for easy entry or exit from the box. The step has a maximum weight capacity of 375 pounds so you can haul in and out whatever you need.
Inner gate load stop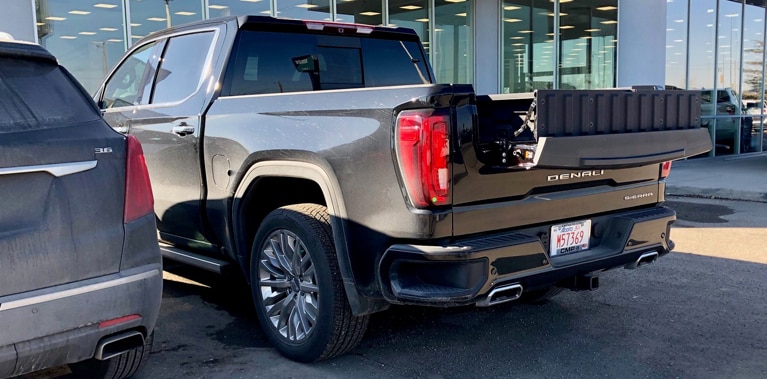 With the tailgate raised, the inner gate can be lowered with the load stop up to prevent high-up items from shifting and sliding out of the box on bumpy terrain.
Inner gate work bench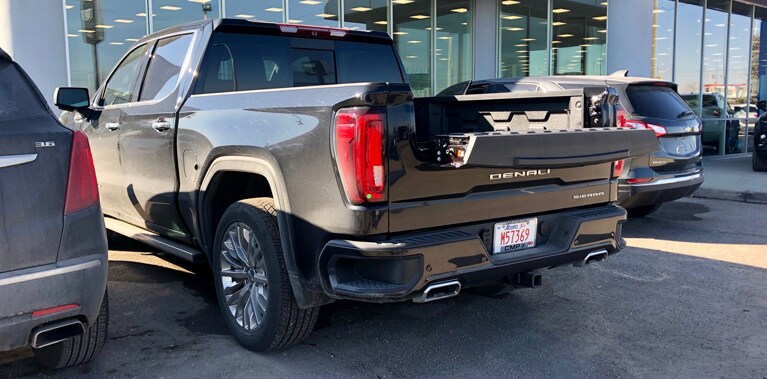 Need an area to work? Simply open the inner gate with the tailgate up to create a work surface that will help you get things done on the road. This is especially helpful if you use your Sierra as a work truck.
The MultiPro tailgate was the winner of an internal competition among GM engineers. The engineers were aware that customers wanted an easier way to get in and out of the truck bed, and the first iteration achieved this by adding a foldable step, but cut the tailgate completely in half to make it happen. GM spent quite a while honing and polishing the original to get it to its current stat, which you'll see on the GMC Sierra.
Being a more well thought out design with an array of configuration options, the MultiPro tailgate is operated using a two-button touchpad located at the center of the tailgate. Come into Shaw GMC today at 4620 Blackfoot Trail SE to see the new tailgate for yourself, or give us a call at (403) 243-4200 to ask us a question.